With or without children, divorce is difficult – Let Rouner Law Office help.
Missouri is a "no-fault" divorce State. Accordingly, neither party is required to prove the other engaged in wrongdoing. A spouse in Missouri can be granted a divorce based merely on asserting the marriage being irretrievable broken.
Residency/Where to file/Waiting Period
A party must live in Missouri for at least 90 days before filing for divorce, and you may file your Petition for Dissolution of Marriage in a Missouri county where either spouse lives. You must then wait at least thirty (30) days after filing the petition before the court will grant a decree or judgment of divorce.
Divorce with Children
For parents facing divorce, Rouner Law Office understands that issues of custody and parenting time are front and center. We also understand that there are a lot of decisions to make: Will parents share joint physical custody, or will one parent have sole physical custody and the other only have limited visitation? Will parents share decision-making, or will one parent have the final say on things like medical treatment and education? Additionally, what's the best way to divide parenting time between divorcing parents? All of these decisions are difficult and have a meaningful and lasting effects on the children and therefore require careful consideration and evaluation by experienced counsel.
In addition to the custody and parenting time issues in a divorce with children, you must consider the obligation of child support payable to one parent from the other. Our Missouri Supreme Court has established Rule 88.01 and a Form 14 that provides parties with a guide to a just and proper amount based upon specific information. Missouri uses guidelines based on the combined income of both parents to determine the amount of child support. The court also considers the parents' and child's financial resources and needs, the standard of living in which the child was raised, and the child's physical, emotional, and educational needs. Child support continues until the child reaches 18 unless an exception applies, such as the child is disabled or the child attends college or graduate school.
Property Division
Missouri uses an equitable distribution system for dividing property, meaning a judge will divide property and debt acquired during the marriage in a way that is fair and equitable, but not necessarily exactly equal. Of course, if you and your spouse agree on how to divide your property you may not need the court's assistance. The court will consider several factors when distributing property such as each spouse's economic circumstances and contributions to the home, the value of each spouse's non-marital property, and both spouses' conduct during the marriage. The court may also consider whether to award the family home to the parent who has primary custody of any minor children. Property that was acquired before the marriage, or during the marriage by gift or inheritance, will be the separate property of the spouse who acquired it and therefore be excluded from being divided by the Court.
While each of these matters seem overwhelming, the staff at Rouner Law Office can assist you through these important decisions.
Rouner Law Office can assist with all of your Family Law needs.
Contact us today to schedule your free consultation.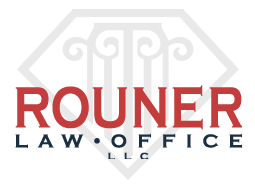 Monday – Friday
8:00AM – 5:00PM
The choice of a lawyer is an important decision and should not be based solely upon advertisements. This website is not intended to be legal advice and the use of this website does not create an attorney-client relationship.