Criminal Defense
When you find yourself with State or Municipal charges, you need a lawyer. Certain charges can result in the loss of your driving privileges, loss of your ability to possess a firearm and even result in incarceration. If you have been arrested or if you are being investigated by law enforcement, contact an attorney immediately. Your civil liberties are at stake and without proper representation, you may lose those constitutional rights.
Rouner Law Office is experienced in handling all types of criminal matters. So whether you are faced with a minor traffic infraction or felony charge, Rouner Law Office is ready to help.
Tips when contacted by law enforcement:
Always be polite and respectful;
Be truthful;
Do not make any admissions against your interest;
If you are read your Miranda warnings, stop talking and ask to speak to an attorney. There is NOTHING incriminating by an individual exercising his/her rights. You are afforded those rights for a reason, use them.
Rouner Law Office can assist with all of your Criminal Defense needs.
Contact us today to schedule your free consultation.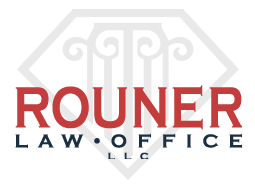 Monday – Friday
8:00AM – 5:00PM
The choice of a lawyer is an important decision and should not be based solely upon advertisements. This website is not intended to be legal advice and the use of this website does not create an attorney-client relationship.